Eye Care Services
Vision Tech Optometry offers top notch patient center service and the highest quality of professionalism for our patients in the
Stuarts Draft, Virginia
area. From comprehensive eye exams for adults and children, to advanced technology for earlier and more accurate detection of sight threatening eye conditions, Vision Tech Optometry is proud to offer our Stuarts Draft area patients the highest level of eye care possible.
Stuarts Draft Eye Exams
Comprehensive eye exams
are important for everyone, from children to parents and gran
dparents. For children it is important to both catch visual issues that may affect a child's ability to learn and conditions that can affect a child's ability to see well beyond his or her school years. Our skilled eye doctors here at Vision Tech Optometry offer high quality comprehensive eye exams aimed at ensuring that your child has all the visual skills required to be successful in school. These include proper eye-hand coordination, eye teaming skills and an ability to focus vision both close up and far away. We will also screen for sight-threatening eye conditions, such as strabismus and amblyopia, which can threaten your child's depth perception and overall ability to see with both eyes properly.
For adults, comprehensive eye exams at our eye care clinic serving the Stuarts Draft area community are important to ensure early detection and treatment of sight threatening eye conditions
such as glaucoma and macular degeneration
. These eye conditions often show no symptoms until they have already begun to damage your visual system, and they become more prevalent after the age of 40, making yearly comprehensive eye exams all the more important for adults who want to ensure their long term eye and vision health.
Eye Technology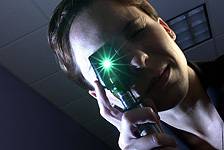 At Vision Tech Optometry, we pride ourselves for being consistently ahead of the curve when it comes to serving our patients in the Stuarts Draft area. That's why we also have some of the most advanced technologies in the eye care world for the detection of sight-threatening eye conditions. Technologies such as Optical Coherence Tomography help us to get an accurate picture of the physical features of your eye, while technologies such as Visual Field Testing allow us to determine parts of your vision that may be faded or missing. Each is essential to help form a larger picture of your overall visual health.
At Vision Tech Optometry, we look forward to serving families and individuals from the Stuarts Draft Area. Come in and see us today!